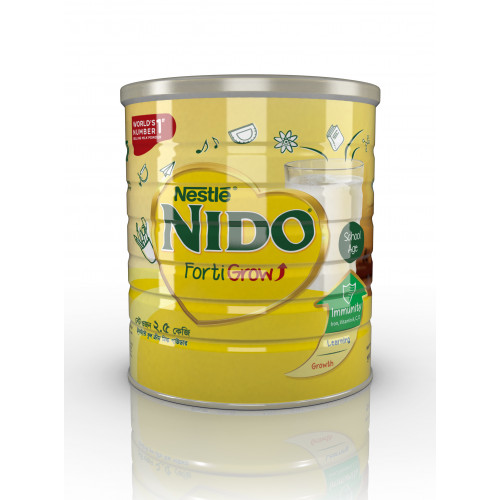 Nestle NIDO Fortigrow Full Cream Milk Powder 2.5 Kg TIN
Description:
Protein 54%
Calcium 80%
Iron 66%
Zinc 60%
Vitamin A 70%
Vitamin D 76%
Origin: Bangladesh

After the age of 5, your child enters a challenging world where healthy physical and mental growth is vital for success and this is when NIDO Fortigrow can help your child develop. NIDO Fortigrow is the best dairy-based nutrition which makes sure your child is mind- and body- ready for school challenges! It has 14 important vitamins and minerals which help to improve your child's learning ability, immunity and normal growth. Iron and B vitamins from NIDO Fortigrow help your child in his learning or cognitive development, Vitamin A & C help in immunity, and protein & calcium help in his normal growth.

For more than 70 years, NIDO has been helping mothers from more than 80 countries in nurturing a healthy future for their children and this is no different in Bangladesh as well.
What is the best price of Nestle NIDO Fortigrow 2.5 Kg in Bangladesh?
The best price of Nestle NIDO Fortigrow 2.5 Kg in Bangladesh is ৳ 2,500. You can buy the Nestle NIDO Fortigrow 2.5 Kg at best price from our website.
PAYMENT METHOD

Cash on Delivery

Online Payment

Mobile Payment

Swipe on Delivery
Pay With





Call Us: 0963-888-88-00
or
E-mail: info@babycarebd.com

Quick Delivery

Easy Return & Refund

Superior Customer Service