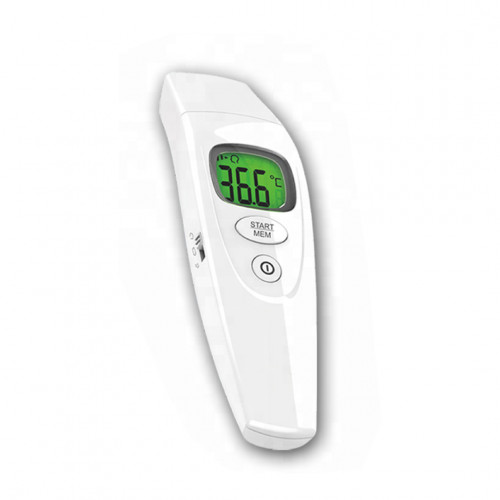 Infrared Thermometer
Description:
Accuracy: Plus or minus < ±0.3degrees.
Precision: 32°C-36°C = +/-0.3°C, 36°C~39°C = +/-0.2°C, 39°C~42.9°C = +/-0.3°C
Detection time: Less than 1 second.
User friendly: One touch access, one touch switch to capture Body / Surface / Room temperature.
Non-Contact: Forehead heat-capturing, no skin contact.
Durability: 20k measurements with 2pcs of AAA batteries; with 100k measurements product lifecycle.
Optimal measure range: Within 5-15cm.
Large Display: Large-size LCD display with white backlight, easy to read.
Over-Heat Alerts: Adjustable alarms.
Data Memory: Storage up to 32 records.
Adjustable Parameters: Preset parameters can be adjust to fine-tune measurements on different faces. (ie. Yellow, White, Black)
Unit Switching: Adjustable display units of °C or °F
What is the best price of Infrared Thermometer in Bangladesh?
The best price of Infrared Thermometer in Bangladesh is ৳ 3,700. You can buy the Infrared Thermometer at best price from our website.
PAYMENT METHOD

Cash on Delivery

Online Payment

Mobile Payment

Swipe on Delivery
Pay With





Call Us: 0963-888-88-00
or
E-mail: info@babycarebd.com

Quick Delivery

Easy Return & Refund

Superior Customer Service